Litter and Litter Bins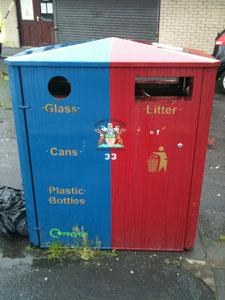 The Council provide and maintain litter bins in an attempt to prevent litter in public places and to preserve Ribble Valley as an area of outstanding natural beauty. The litter bins are emptied on a regular basis.
Litter in a public place is unsightly, dangerous to animals and an offence for which you can be fined so always try to use a litter bin or take it home.
We have provided new litter bins which have separate sections for recyclables such as glass, cans and plastic bottles and for general waste/litter. For ease of use the litter bins use the same colour scheme as the wheeled bins provided to residents for their recycling and refuse collection service - blue for recyclables and burgundy for general waste will over time replace the current litter bins.
To report a damaged litter bin, request a new litter bin or just to report a bin that needs emptying please contact us on 01200 425111.