Employees offered Rapid Covid-19 testing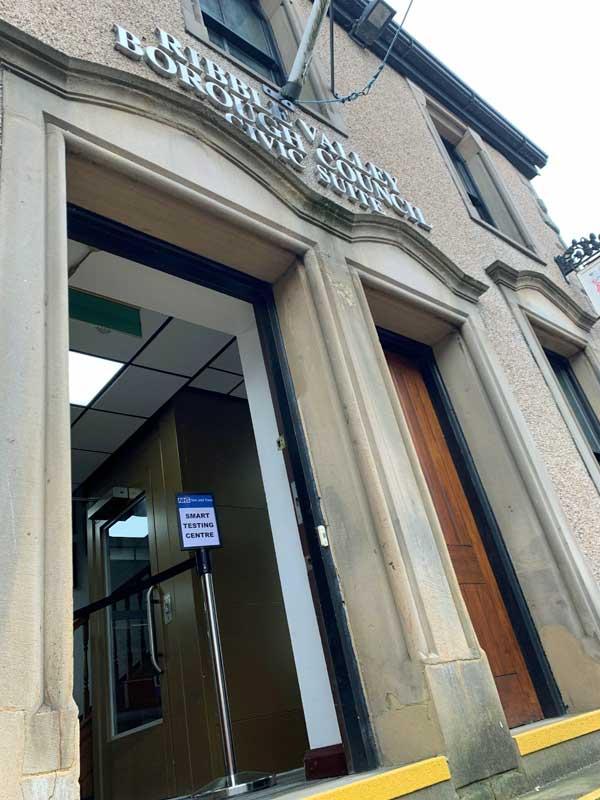 Published Wednesday, 17 February 2021

Ribble Valley Borough Council have set up a Rapid Covid-19 testing site using Lateral Flow Tests, at the Council Chamber in Clitheroe – 11-13 Church Street, Clitheroe BB7 2DD

The testing site is aimed at those people who are unable to work from home, and who do not have symptoms (asymptomatic) to protect them and reduce transmission of the virus. Up to a third of people who test positive for Covid-19 have no symptoms at all, so it's important to test people without symptoms to identify these cases. Lateral Flow Testing for employees should be repeated every 3-5 days to quickly identify and isolate those who may not know they are infectious.

Anyone presenting at the testing site will need to be able to confirm their need to attend the workplace, for example a letter from their employer or an identity badge.

If you have staff who want to be tested they can book an appointment via email at smarttesting@ribblevalley.gov.uk or by phoning 01200 414597.

The procedure is quick and people get their result within an hour of the test being carried out. The initial registration process takes around 10 minutes and the test itself less than 5 minutes. It is a self-administered test and the site staff will talk each person through the simple process involved. Once completed, people are free to go and will receive a text or email with their result. Employees are asked to take a smart phone with them to the test centre, if they have one, so that they can be shown how to register. It is not a problem if they do not have such a phone, as the test centre staff have laptops to help people register.

Visiting for further tests is a quicker process, as full registration is not required again. The site is open Monday to Friday 9am to 4pm.

If someone has a positive test result then they must self-isolate for 10 days and follow Government guidelines.

If the test is NOT positive then they must still continue to follow Government guidelines on social distancing and wearing masks etc to protect themselves and others. Remember – Hands, Face, Space.

Anyone with symptoms (a high temperature; a new, continuous cough; a loss of, or change to, your sense of smell or taste) should not attend the rapid testing site but should book a test via GOV.uk.
Share this page: