Clitheroe Castle
Clitheroe Castle Museum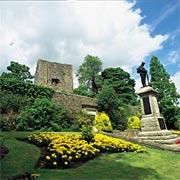 Castle Hill, Clitheroe, Lancashire, BB7 1BA
Tel: 01200 424568
Email: clitheroecastle@lancashire.gov.uk
See Lancashire Museums, Clitheroe Castle Museum to find more information about opening times, admissions, what's going on at the museum and for school and group visits.
Or for general enquiries about Clitheroe Castle please contact Ribble Valley Borough Council on 01200 425111.
Clitheroe Castle Grounds
The Clitheroe Castle is surrounded by 16 acres of park.
The grounds include:
Castle Keep
Skate Park
Children's Playground
War Memorial
Bandstand
Bowling Green
Multi Functional Sports Court
Labyrinth
Take a look at the events taking place over the coming months.