Greatest Days Film Based on Take That Songbook is 'Absolutely Fantastic' says Council Leader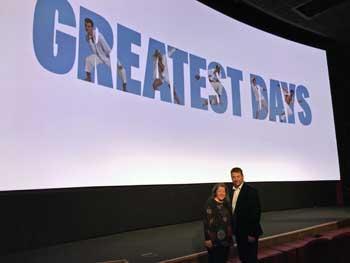 A council leader has described the forthcoming film based on the Take That songbook as 'absolutely fantastic'.
Stephen Atkinson, leader of Ribble Valley Borough Council, joined the cast and crew of the film, Greatest Days, for a special pre-release screening in London.
The film was shot in Clitheroe and the surrounding countryside last April, followed by shoots in London and Athens.
And delighted council leader Stephen said the film is 'absolutely fantastic' and will showcase the charm of Clitheroe and the surrounding countryside to a global audience.
The film is based on the stage musical, The Band, about a group of women who reunite after 25 years to see their favourite band.
Its film adaptation follows the success of musical movies like Mamma Mia and features 16 of Take That's greatest hits, as well as new material.
Described as 'a feelgood universal story of love and friendship', the film introduces five schoolgirls – Rachel, Heather, Zoe, Claire and Debbie – who live in Clitheroe and have the night of their lives at a concert featuring their favourite boyband.
Twenty-five years later their lives have changed in a myriad of ways, as they reunite to reminisce about their past.
The film is directed by multi-BAFTA-winning Coky Giedroyc (How to Build a Girl) and written by Tim Firth (The Band, Calendar Girls and Kinky Boots), who is no stranger to Clitheroe – he holidayed in the town as a child and has fond memories of the area.
It stars Aisling Bea, winner of the 2020 BAFTA Television Craft Award for Breakthrough Talent; Alice Lowe, Jayde Adams, Amaka Okafor, Marc Wootton, Lara McDonnell, Jessie Mae Alonso, Nandi Hudson, Carragon Guest and Eliza Dobson.
The film's 'boy band' are Aaron Bryan, Dalvin Cory, Joshua Jung, Mark Samaras and Mervin Noronha.
Greatest Days was shot at numerous locations across Clitheroe and culminated in a big song and dance number in the town centre.
Stephen Atkinson said: "I was delighted to attend the cast and crew screening of Greatest Days and can say that the film is absolutely fantastic.
"It received a standing ovation at the end of the screening and I am honestly not surprised.
"It has laugh-out-loud moments and heart-breaking moments, and some amazing song and dance numbers.
"It is just the tonic we need as we negotiate the post-pandemic period and we are looking forward to working with the Greatest Days team to create a lasting legacy for the film in Clitheroe for years to come."
Council officers are now working on a series of activities to coincide with the film's release this spring and further details will be announced in due course.