Just Two Weeks to go to Local Elections and Voter ID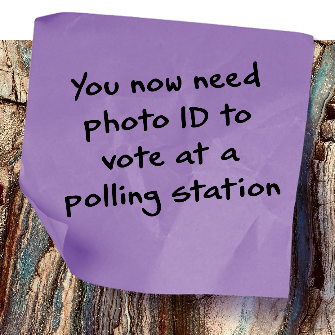 There are just two weeks to go to the local elections, which for the first time will see people voting in person required to show photo-ID.
Ribble Valley goes to the polls on 4 May to elect councillors for 36 of the borough council's 40 seats.
And you are being asked to make sure you are vote-ready by checking you have the right photo-ID.
There are numerous forms of acceptable ID, including passports, driving licences and bus passes, and you are even able to use expired ID if you are still recognisable from the photo.
But if you do not have one of the accepted forms of ID you can apply for free photo-ID, called a Voter Authority Certificate.
The deadline for applying for a Voter Authority Certificate (or making a new application for a proxy vote) is 5pm on Tuesday, 25 April.
You can apply for a Voter Authority certificate online or complete a paper form and post it to Ribble Valley Borough Council, or complete it in person at the Council Offices in Church Walk, Clitheroe.
The full list of accepted photo-ID and details of how to apply for a Voter Authority Certificate are available at www.electoralcommission.org.uk/voterID
If you know that you won't be able to get to the polling station on polling day, you can ask someone you trust to vote for you.
This is called a proxy vote and the person you choose to vote on your behalf will need to show their own photo ID.
The deadline for new applications to vote by proxy, except in an emergency, is also 5pm on Tuesday, 25 April.
Applications to vote by proxy on the grounds of an emergency – such as a medical emergency, being called away for work, your photo-ID is lost, stolen, destroyed or damaged, and the deadline to apply for a Voter Authority Certificate has passed – can be made until 5pm on polling day.
Polling takes place on Thursday, 4 May, from 7am to 10pm, and a list of polling stations, including information on disabled access, is available at www.ribblevalley.gov.uk/voter-id
● If you need assistance applying for a Voter Authority Certificate, phone Ribble Valley Borough Council's electoral services team on 01200 414411 or 01200 414426 to book an appointment to complete the form in person.