Stellar Sibling Performance Commemorates Ukraine Independence Day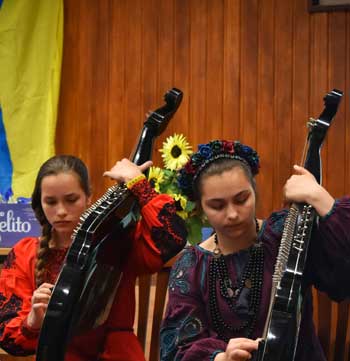 A performance of Ukrainian folk music by twin sisters Solomiia and Sofiia Petrovska was the centrepiece of council celebrations to mark Ukraine Independence Day.
Ribble Valley is currently hosting around 50 Ukrainians as part of the Homes for Ukraine scheme, which is one of the highest rates in Lancashire.
Ribble Valley Mayor Mark Hindle, firstly welcomed everyone to the Ribble Valley Civic Suite, before reiterating the support and goodwill of the borough via a translator.
"Today provides us with an opportunity to celebrate Ukrainian independence and show you that what is happening in your homeland is not forgotten."
"Please be assured that you share the overwhelming support and goodwill of the British Government, the people of the United Kingdom and the people of Ribble Valley."
Mark signed off his welcome with the traditional Ukrainian salute 'slava ukraini', which translates as 'Glory to Ukraine!'
The guests then enjoyed a magical performance of Ukrainian folk songs by 14-year-old twins Solomiia and Sofia, who accompanied themselves on the bandura, a traditional Ukrainian stringed instrument.
The children at the event were gifted sweet cones in the blue and yellow colours of the Ukraine flag, after which everyone enjoyed a buffet lunch.
Ribble Valley has flung open its doors to Ukrainians feeling the brutal invasion of their country by Putin's Russia and provides ongoing support to the community. A Ukrainian Liaison Officer has been appointed, and several community groups and churches continue to offer support to the Ukrainian community, most notably via the Clitheroe Ukraine Support Project (CUSP), which provides practical and emotional support to the guests and those families hosting the Ukrainian guests.