Clogging in Clitheroe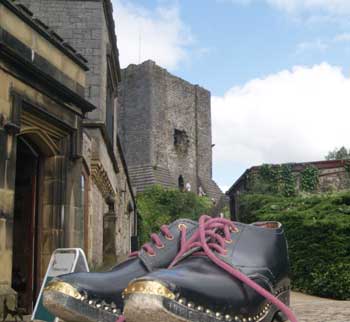 Clog dancers from all over the country will descend on Clitheroe Castle Museum this weekend as part of the first ever Clitheroe Clog Festival and Lancashire and Cheshire Clog Competitions.
The two-day extravaganza, to be held over the weekend of 16 and 17 September, will see clog dancers or 'cloggers' from up and down the country performing traditional dances to lively music in venues around Clitheroe.
The dancing starts on the morning of Saturday, 16 September at Clitheroe Castle Museum, before moving on to Clitheroe Market and Holmes Mill and returning to the Castle Museum for a mass participation dance in the afternoon!
Clog maker Phil Howard will also be at the museum on Saturday, talking about and demonstrating the fascinating heritage craft of clog making.
The fun continues on Sunday, 17 September when the Clitheroe Castle Museum will be hosting the 2023 Lancashire and Cheshire Clog Dance competitions. For over 40 years this competition has showcased the very best in clog dancing, with dancers competing to win the Championship Hornpipe belt.
Claire Sutton, Clitheroe Castle museum manager said: "We are delighted to be hosting the first ever Clitheroe Clog Festival and Lancashire and Cheshire Clog Competitions this weekend.
"Everyone is welcome at this free event. It promises to be a fun filled weekend and we hope that as many people as possible will be able to join us to clog dance their way around Clitheroe, learn more about clog dancing and watch the very best clog dancers from across the country showcase their skills."
Clitheroe Castle is managed by Lancashire County Council's Museum service on behalf of Ribble Valley Borough Council. To find out more about the weekend's events or Clitheroe Castle and Museum, email clitheroecastle@lancashire.gov.uk, visit the website Clitheroe Castle Museum - Lancashire County Council or phone 01200 424568.