Clitheroe Glittering Festive Showcase Looks Set to Shine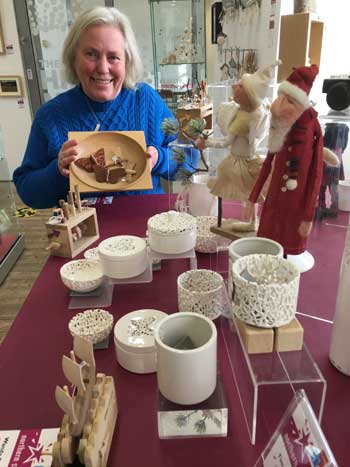 Clitheroe's much-awaited glittering festive showcase, Northern Star, has opened at the Platform Gallery.
If you are looking for a unique handmade gift to light up someone's festive season, then look no further than the popular gallery in Station Road.
Over 35 of the UK's most celebrated craftworkers and artists are exhibiting at Northern Star until 6 January.
The exhibition features a festive feast of handmade items, including textiles, ceramics, glass, woodwork, jewellery, lighting, decorations and cards, with prices starting at just £3.
Exhibitors include Lake District lino printer Sarah Cemmick, whose acclaimed work is inspired by the natural world.
Sarah graduated in environmental illustration at the University of Sunderland in 1996 and promptly started her printmaking career with the help of the Prince's Trust.
She produces lino prints tinted with watercolour for added texture and Japanese tissues with gold and silver foil flecks for dramatic decorative effect.
Sarah's wildlife-inspired work is held in private collections across the world and can be seen at galleries throughout the UK.
Also exhibiting at Northern Star is Newcastle silversmith Emine Thompson, who hails from Istanbul and makes stunning contemporary jewellery laced with enamel and gold.
Emine trades under the name SilverKupe, 'küpe being Turkish for earring, because the first piece of jewellery she made as a child was a pair of silver earrings.
Ricky Newmark, chairman of Ribble Valley Borough Council's community services committee, said: "Northern Star is one of the Platform Gallery's most anticipated annual events and I can honestly say this year's showcase is breathtaking.
"Once again, Northern Star has brought the best and finest British craftwork to Clitheroe for the festive season and we are inviting art and craft enthusiasts, or shoppers looking for a unique one-off gift, to join us at the Platform Gallery for a truly inspiring experience."
The Platform Gallery is also hosting a series of pop-up craft fairs featuring four specially-selected artists on weekends throughout December.
The 'shooting stars' events will take place in the gallery's art and craft space on 25 and 26 November, 2 and 3, 9 and 10 and 16 and 17 December.
Situated in a renovated Victorian railway station, the multi-award-winning Platform Gallery and Clitheroe Visitor Information Centre is open from 10am to 4.30pm Monday to Friday, 10am to 4pm Saturday and 11am to 3pm on Sunday, 26 November, 3, 10 and 17 December.
Further details about Northern Star and 'shooting stars' are available from the Platform Gallery on 01200 425566.
Pic cap: FOLLOW THE STAR – Platform Gallery assistant Dorothy Dowling at Northern Star, the gallery's glittering annual festive showcase.