Save the Date as Top Food Festival Makes Welcome Return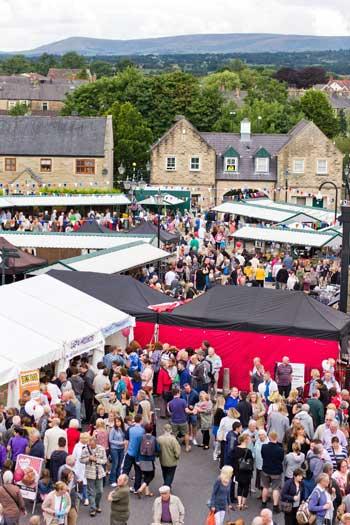 Calling all food enthusiasts – save the date for the Clitheroe Food Festival, which makes a welcome return on Saturday, 30 July.
The annual event, organised by Ribble Valley Borough Council, attracts thousands of food enthusiasts seeking the best Lancashire produce to Clitheroe town centre.
This year's festival is the first since 2019, after a three-year break due to the pandemic.
And this year's event will be back with a bang, featuring quality food and drink from around 100 exhibitors, a feast of family-friendly fun and a dollop of street entertainment.
A huge array of foods, from wild game and Biltong beef to cheese truckles and curry kits, Thai pies and Bavarian pastries to artisan beers and vintage cordials, along with a feast of fruit and vegetables packed with authentic flavours, will be found at the festival, which is considered one of the best in the UK.
Ricky Newmark, chairman of Ribble Valley Borough Council's community services committee, said: "The Clitheroe Food Festival is back with a bang and food enthusiasts across Lancashire are invited to save the date.
"Ribble Valley has created a strong narrative around food over the years and we are delighted that the festival is to make a welcome return and provide vital support to food local businesses as we move into the post-pandemic period.
"Festival-goers can expect top-quality artisan produce, as well as cuisine from further afield, a feast of entertainment and most importantly a warm Ribble Valley welcome."
Further details are available at clitheroefoodfestival.com.
There is still time to book a pitch for this year's festival. Priority will be given to producers from Ribble Valley and Lancashire, but exhibitors from further afield will be considered if their product is of an exceptionally high standard. The deadline for applications is Tuesday, 31 May, and further details and bookings are available at eventowl.co.uk.
Further details for the press are available from Ribble Valley Borough Council's communications unit on 01200 414483 or 07971 978766.