Rousing Welcome Expected for Jubilee Freedom Parade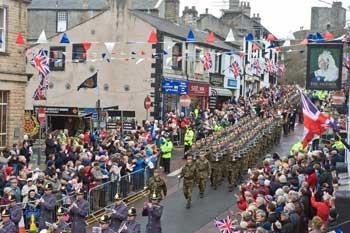 Over 120 soldiers and a marching band are expected to receive a rousing welcome when they parade through Clitheroe next Tuesday (24 May).
The 1st Battalion of the Duke of Lancaster's Regiment supported by the British Army Band Catterick will march through the town centre at 11am with 'bayonets fixed, drums beating and colours flying'.
The parade will start in Queensway and make its way up Moor Lane and Castle Street to Market Place, where the soldiers will be presented to Ribble Valley Mayor Stuart Hirst, before a church service and civic reception.
The event will herald the start of Ribble Valley's Platinum Jubilee celebrations marking 70 years since her Majesty Queen Elizabeth acceded to the throne.
And schoolchildren will line the route waving flags they have made in conjunction with local artist Beverley Chapelhow in the official Platinum Jubilee colours of silver and purple.
The historic occasion will be celebrated throughout the UK and Commonwealth in numerous ways, including an extended bank holiday from 2 to 5 June.
As well as the Freedom parade, Ribble Valley's Platinum Jubilee celebrations will include a beacon-lighting at Clitheroe Castle, tree-plantings throughout the borough and the planting of a 'jubilee tree avenue' at Brungerley Park in Clitheroe.
The Queen is the Duke of Lancaster and Ribble Valley Borough Council awarded Freedom of the Borough to the Duke of Lancaster's Regiment in 2011.
The honour dates from Roman times when troops were not allowed to enter a town or city bearing arms without the express permission of the authorities.
These days, it is a ceremonial honour showing the ties between a borough and a particular regiment.
Ribble Valley Borough Council leader Stephen Atkinson said: "The Freedom of the Borough parade in 2011 attracted thousands of spectators and we are looking forward to giving the Duke of Lancaster's Regiment another rousing Ribble Valley welcome.
"This year's parade is particularly poignant, as the Queen is the Duke of Lancaster and the parade heralds the start of the borough's Platinum Jubilee celebrations."