'ДЕРЕВО МИРУ' FOR UKRAINE PLANTED IN CLITHEROE CASTLE GROUNDS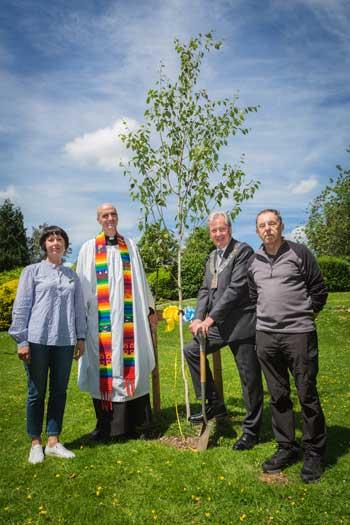 A peace tree has been planted in the grounds of Clitheroe Castle as a show of solidarity with Ukraine and displaced Ukrainians.
A birch tree common in the Balkan states has been planted in the castle grounds near Woone Lane and blessed by the Rev. Andy Froud, of Clitheroe Parish Church.
Ribble Valley Mayor Stuart Hirst, who cut the tree's first sod, said: "The planting of this tree will show Ukrainian families who have found themselves in Clitheroe after fleeing their country that they are a welcome and valued part of our community.
"Trees are a global symbol of hope, peace and unity, and this beautiful birch shows our solidarity with Ukraine as it defends itself from the Russian invasion.
"The tree will also improve wildlife in the castle grounds and bring beauty and colour to a secluded part of the park."
Iryna Barnsley, who was born and grew up in Ukraine and is well-known to townspeople at Sainsburys supermarket where she works, attended the planting and described the tree as a wonderful gesture to her countryfolk.
Iryna, who moved to Clitheroe 18 years ago when she married her husband, Alan, said: "It is hard to believe what has happened in my homeland.
"My family are still in the Carpathian region of Western Ukraine and are moved beyond words by the solidarity they have received from the British people.
"This is a beautiful tree that fellow Ukrainians who have found refuge in Clitheroe will visit many times over the coming months and years to find peace and solace."
The Rev. Andy Froud, of Clitheroe Parish Church, who blessed the tree, added: "Like many, I have watched in horror as the brutal invasion of Ukraine has unfolded on our television screens.
"This is not only a beautiful tree, but has special significance for Ukrainian people, being a genus species in Eastern Europe.
"The planting of this tree at one of Lancashire's most iconic landmarks is a gesture of solidarity with Ukraine and displaced Ukrainians living in Ribble Valley, the UK and throughout Europe."
This is not the first time 'peace trees' have been planted in Ribble Valley.
In the 1990s, the borough gave shelter to refugees from the Balkans war, after which a cherry tree was planted in the grounds of the former Calderstones Hospital in Whalley, where some of the refugees had been housed, commemorating a return to peace.
And in the aftermath of the attack on the World Trade Centre a symbolic peace tree was planted in the grounds of Clitheroe Castle in a ceremony attended by representatives of the Christian, Muslim, Quaker and Buddhist communities.
Over 50 Ukrainians fleeing their war-torn country have found refuge with Ribble Valley families under the Homes for Ukraine Scheme, one of the highest rates in Lancashire.
Ribble Valley Borough Council has appointed a temporary Ukraine liaison officer and several community groups and churches have stepped up to support refugees, notably the Clitheroe Ukrainian Support Project, or CUSP, which runs a dedicated hub from 9.15am to noon on Mondays (Trinity Church, Parson Lane), Wednesdays (United Reformed Church, Castlegate) and Fridays (St James's Church, St James's Street).