'Boneshaker' Bicycle Helps People get a Handle on Cycling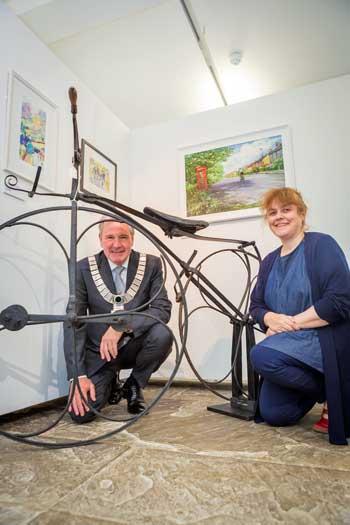 A boneshaker bicycle is helping people get a handle on cycling in a special exhibition at the Clitheroe Castle Museum.
The Wheelie Good Cycling Exhibition at the museum's Steward's Gallery captures the joy of cycling in the work of 13 notable artists, including Gosha Gibek, Trevor Lingard, Patricia Haskey and Veronica Gornall.
It also features images and objects providing a glimpse into the history of cycling and local cycling clubs from the Clitheroe Castle Museum collection.
Among them is a rare velocipede, an early form of bicycle with a metal frame and wooden handlebars, made in Clitheroe in 1870.
Velocipedes had solid tyres, hence the nickname 'boneshaker', as they were uncomfortable to ride and having no gears were ridden by pedals turning the front wheel.
Exhibits also include the 1934 Clarion Cup, which was awarded to the winner of the 32-mile Clitheroe to Settle and back bike race.
Clitheroe Castle Museum manager Claire Sutton said: "Cycling can be our means of transport, sport or how we unwind and spend time with friends.
"And this exhibition is showcasing the work of some celebrated Lancashire artists, as well as fascinating objects from the museum collection, including the velocipede, which is certainly capturing the attention of visitors, and the Clarion Cup."
Cycling is a great way to experience Ribble Valley – the borough's scenic countryside and quiet routes make it a great day out and there are plenty of places where you can hire bikes.
The borough is home to Gisburn Forest, which has a number of celebrated bike trails that attract off-road cyclists from throughout the country.
It also has a host of cycling-friendly places to stay and facilities featured on a dedicated cycling map available at visitribblevalley.co.uk.
The Wheelie Good Cycling Exhibition is free to enter and runs until 30 September in the Steward's Galley, which is open from 11am to 4pm every day.
Clitheroe Castle Museum is managed by Lancashire County Council's museum service on behalf of Ribble Valley Borough Council.
Further details are available from Clitheroe Castle Museum on 01200 424568.