Borough goes Green for the Queen with Jubilee Tree Schemes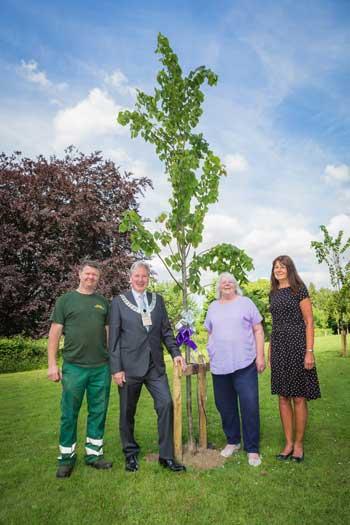 A tree avenue commemorating the Queen's Platinum Jubilee has now been completed in Brungerley Park, Clitheroe.
The 'splendid' avenue comprising 20 large-leaf limes in two rows of 10 is among 70 select trees being planted in the borough as part of the Queen's Green Canopy.
People across the country, from individuals to schools, villages, community groups and organisations, are planting trees in honour of the Queen as a 'living memorial' for future generations.
As well as the Brungerley Park tree avenue, Henthorn Park in Clitheroe is now home to six oak, five hornbeam, four crab, three hawthorn, three cherry, two lime and two yew.
The arboreal guard of honour has been planted along the path to enhance the amenity of the park and make up for lost or damaged trees.
And Towneley Gardens in Longridge is now home to a commemorative cluster of three large-leaf limes, while plans are afoot to site a stand of oaks in Whalley.
Ribble Valley Mayor Stuart Hirst said: "Her Majesty and the Prince of Wales marked the start of the Queen's Green Canopy, with the planting of a copper beech in the Balmoral Estate.
"Since then, thousands of families, schools and community groups have been planting jubilee trees across the country to create a green canopy in tribute to the Queen's 70 years of service.
"We are delighted to take part in the canopy project and I would like to thank everyone involved in our thoughtful and innovative plantings, particularly our council gardeners, countryside officer Alex Shutt, Henthorn residents and the Friends of Brungerley Park."
Dorothy Jackson, chairman of the Friends of Brungerley Park, said: "The jubilee tree avenue is spectacular and will be enjoyed by users of the park for years to come.
"It is a fitting tribute to Her Majesty and I would like to thank council staff and fellow Friend Kay Valovin for supporting this wonderful scheme."
And Longridge borough councillor Angeline Humphreys, added: "We are delighted that Longridge has joined this fantastic scheme with a cluster of limes at Towneley, which will be enjoyed by townspeople for years to come."
The Queen's Green Canopy is continuing throughout the year and further details, including how schools and community groups can obtain free trees, is available at woodlandtrust.org.uk.