Greatest Days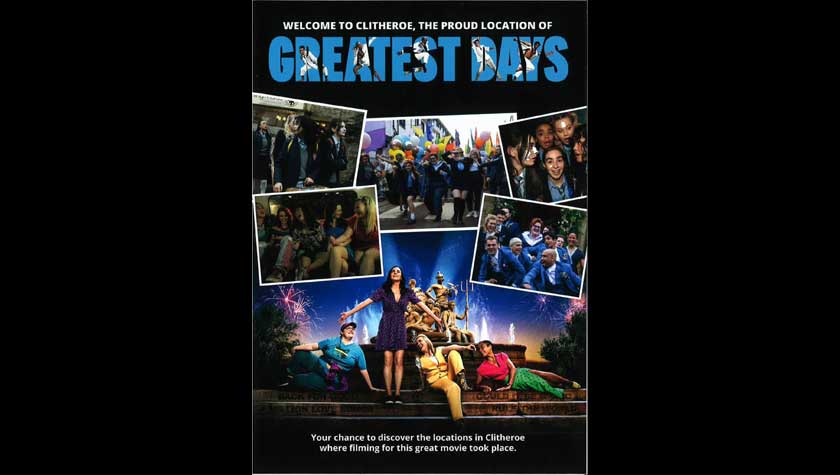 Download the Selfie Trail
If you want to discover the locations where filming for the film GREATEST DAYS took place then download our leaflet.
More information ...
Release Date for Top Movie Based on Take That Songbook Announced
Clitheroe is gearing up for the much-anticipated launch of the top movie based on the Take That songbook.
Greatest Days will be released in cinemas across the UK and Ireland on Friday, 16 June.
And a host of activity is planned in Clitheroe and Ribble Valley to celebrate the release of Greatest Days and create an enduring legacy from the film for the town.
Described as 'a feelgood universal story of love and friendship', the film introduces five schoolgirls – Rachel, Heather, Zoe, Claire and Debbie – who live in Clitheroe and have the night of their lives at a concert featuring their favourite boyband.
Twenty-five years later their lives have changed in many ways, as they reunite for one more epic show by their beloved band, relight their friendship and discover that maybe their greatest days are ahead of them.
Greatest Days was shot at numerous locations across Clitheroe and culminated in a big song and dance number in the town centre, followed by shoots in London and Athens.
Ribble Valley Borough Council officers worked behind-the-scenes with the film's production crew to bring the top film to Clitheroe.
The film was shot at numerous locations in and around the town and will showcase the charm of Clitheroe and the surrounding countryside to a global audience.
Top Team
Greatest Days is directed by multi-BAFTA-winning Coky Giedroyc (How to Build a Girl) and written by Tim Firth (The Band, Calendar Girls and Kinky Boots), who is no stranger to Clitheroe – he holidayed in the town as a child and has fond memories of the area.
It stars Aisling Bea, winner of the 2020 BAFTA Television Craft Award for Breakthrough Talent; Alice Lowe, Jayde Adams, Amaka Okafor, Marc Wootton, Lara McDonnell, Jessie Mae Alonso, Nandi Hudson, Carragon Guest and Eliza Dobson.
The film's 'boy band' are Aaron Bryan, Dalvin Cory, Joshua Jung, Mark Samaras and Mervin Noronha.
And the producer is Danny Perkins (Elysian Film Group), along with executive producers Take That's Gary Barlow, Mark Owen and Howard Donald.
Ribble Valley Borough Council officers are putting the finishing touches to a series of promotional activities to coincide with the film's release and further details will be announced shortly.
www.greatestdaysmovie.com