Council Tax Charges, Valuations and Spending
Planned Spending and Your Council Tax
We collect council tax on behalf of government organisations in the area. These include:
Local Town and Parish Councils
and ourselves, Ribble Valley Borough Council.
The chart below shows how your annual council tax bill is divided across different local organisations.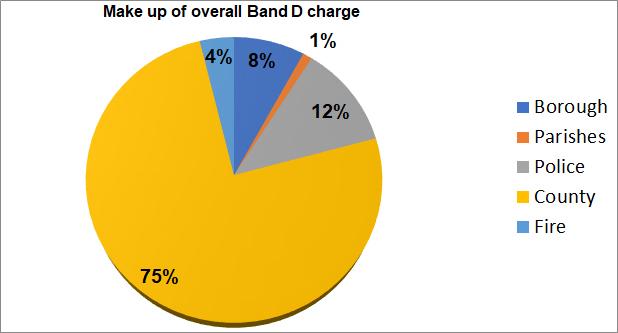 The amount of council tax you pay depends on how much the organisations above need to spend to deliver services in the area, and how much money they get from elsewhere. The amount you have to pay also depends on which valuation band your home is in.
Each parish or town council within the borough can request a share of council tax for the local services provided by them. A table of council tax charges by parish for 2023/2024 is available for download.
You can also download information about how each organisation uses their share of council tax:
Adult Social Care charges explained
The Government has put in place changes to the way in which Council Tax can be used to fund Adult Social Care services. In this area, Adult Social Care is run by Lancashire County Council. The changes mean that Councils who run Adult Social Care services can charge an additional 'precept' on the whole charge – separate from the increase applied to general funding.
For 2023/24, Lancashire County Council has increased its overall charge by 3.99%. 2% of the increase is to fund Adult Social Care and 1.99% is to fund General Expenditure.
The amount charged during 2022/23 by Lancashire County Council for a Band D property was £1514.29 and £179.76 of this charge related to Adult Social Care.
In 2023/24 the Lancashire County Council charge for a Band D property will increase to £1574.71. This is an overall rise of 3.99% on last year, which includes £210.05 to fund Adult Social Care.
The Adult Social Care element has increased by 2% or £30.29 on the overall charge.
This is calculated as follows:
£30.29 (the amount of Adult Social Care increase) divided by £1,514.71 (last year's overall charge) multiplied by 100 (to give a percentage figure).
The way that we work out this increase and show it on our Council Tax bills is prescribed by The Council Tax (Demand Notices) (England) (Amendment) Regulations 2017.
For more information on the Adult Social Care Precept see Lancashire County Council Council Tax.
Council Tax
Address: